Lasagna Simplified
This recipe takes the fussiness out of lasagna.
DINNER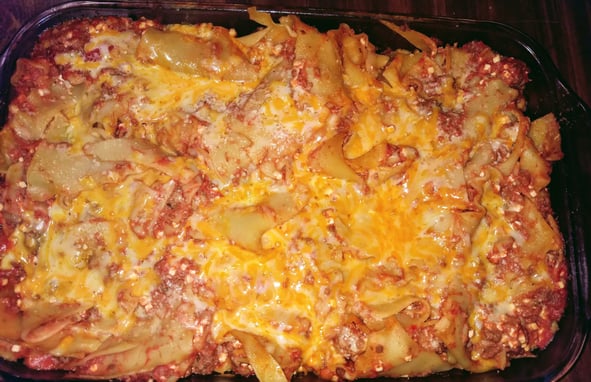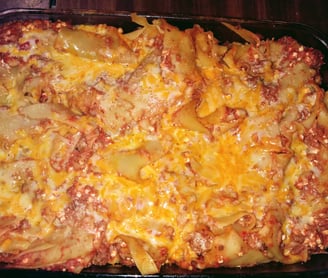 Ingredients
Meat Mixture:
1 pound hamburger or sausage

Salt and pepper to taste

1 can sauce of your favorite pasta sauce

1 box lasagna sheets

16 ounces ricotta cheese or cottage cheese

1 egg

2 cups grated mozzarella

1/2 cup grated Parmesan cheese
Preheat the oven to 375 degrees F.

Cook the meat, salt and pepper to taste. Drain the grease and add the sauce

Bring a large pot of lightly salted water to a boil. Break the lasagna noodles into about thirds. Cook according to package directions. Drain noodles, and rinse with cold water.

Combine everything in a mixing bowl.

Rather than layering. Pour everything into a greased 9x13 pan.

Cover with tinfoil and bake for 40 minutes.
Notes: To speed things up you can use premade sauce. If you go this route cook the noodles at the same time as the meat.

Use whatever veggies you want or omit them.
||Prep 10 min.||Cook 1.5 hrs.||Bake 40 min.||
||8 Servings||Cost $2.24 per serving||
This is one of my family's favorites. We usually use cottage cheese to save money and to cut costs. We often have it with salad and garlic knots.