Garlic Knots
This simple savory dough comes together in minutes. The hard part is waiting for the dough to rest and rise.
MISC.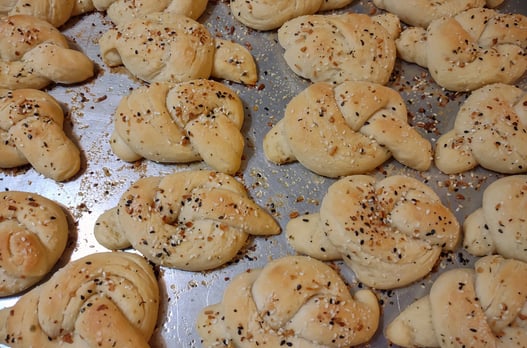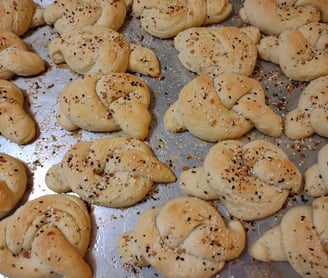 Dough
1 1/2 cups warm water

1 tbsp yeast (or 1 package)

1 tbsp sugar

2 tbsp oil

1 tsp salt

3 1/2-4 cups flour
Topping
4 tbsp melted butter

1 tsp Italian seasoning

2 tsp garlic powder

1/2 tsp salt

Optional, I like to sprinkle on some Parmesan cheese and everything bagel seasoning.
Mix water, sugar, and yeast together. Let the yeast bloom for 3-5 minutes.

Add the other ingredients. If it's too sticky, add more flour a hand.

Knead by hand or turn on your mixer for 5 minutes. Put a light covering of oil on the outside, about a tablespoon or two. Cover your bowl with plastic wrap for about 1 ½ hours.

Stretch the dough out into a log and cut it into 18 pieces. Between your hands or on a mat, roll each piece out into a long skinny rope and tie it in a knot. Put them on a greased cookie sheet.

Make your topping and use a pastry brush to cover the tops. Sprinkle with cheese and everything bagel seasoning if desired.

Put the plastic wrap back on the dough and let them rise for about 30 minutes.

Bake in a preheated 375 oven for 20-25 minutes until they are golden brown.
Notes: If you don't want to do knots, you can pull off small balls of dough and place them in a greased 9x13 pan.
|| Prep 10 min. || Rising 2hrs. ||Bake 20-25 min.||
||Servings 9 || Cost $0.22 per serving ||
This knot goes great with soup, salad, or pasta. They have a crunchy outside with soft centers. They taste amazing.