Turtle Squares
All the fuss is gone in these simple turtle square (or frogs)
DESSERTCANDY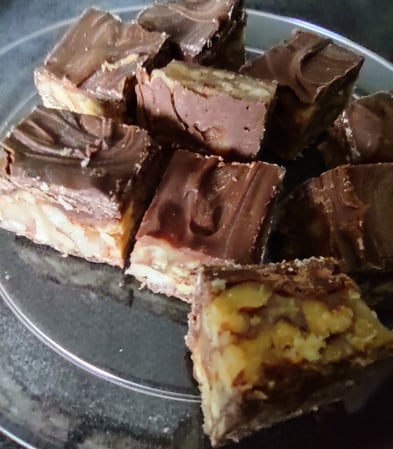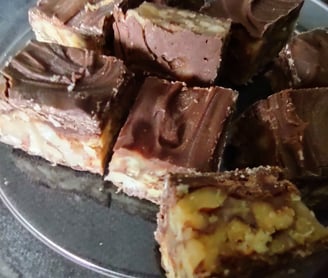 Ingredients
One batch of caramels (or one lb. wrapped caramels)

1 package chocolate chips or 2 cups chopped block chocolate

2-3 cups chopped pecans
Mix the chopped pecans into the hot caramel.

Pour into a greased 9x13.

Let it cool for 10-15 minutes.

Spread out the chocolate on top. Wait a few minutes for it to melt, then spread it out with a rubber spatula.

Give it an hour or two to set up. Cut in rows of 4x9 or whatever size you desire.
Notes: Use any other nut or mix of nuts.

I prefer mine to be roasted and salted. It keeps them from softening and also gives more depth to the flavor.

If your chocolate gets too hot it will bloom. Which means you'll get white spots from the cocoa butter separating. It's still fine.
||Prep 5 min.||Cook 8 min.||Total 13 min.||
||Servings 36 || Cost $0.23 per serving ||
My family calls pecans covered in caramel, then chocolate, turtles. My husband's family calls them frogs. Whatever you call them, they are delicious.