Stir Fry
Easy stir fry that you can put together in a matter of minutes.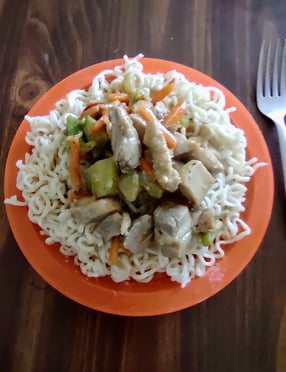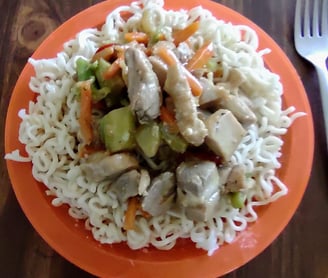 Ingredients
1 lb boneless chicken

2 cloves garlic

1 pkg. frozen stir fry

3 pkg. ramen

1 tbsp cornstarch

3 tbsp soy sauce

1/4 cup olive oil (sesame oil if you have it) divided

Salt and pepper to taste
Cut chicken into bite-size pieces. Add 2 tablespoons oil to a hot pan or wok. Add garlic, then chicken, 1 tablespoon soy sauce, and 1 ramen flavor packet. Cook until done--about 5 minutes. Set aside.

In your hot pan add 1 cup cold water, stir-fry veggies, 1 tbsp cornstarch, 2 tbsp soy sauce, 1 tbsp oil, and the other two ramen flavor packets. Stir together. Let it cook 5-7 minutes.

While the veggies cook, boil a few cups of water. Once it's boiling, add the noodles. Cover and let it cook for 2 minutes. Drain. If you're not eating immediately run the noodles under cold water to stop the cooking.

Combine everything or serve the veggies and chicken over the noodles.
Notes: You can use any meat or go meatless. Both taste great..

If I have any veggies in the fridge that need to be used soon. I chop those up and add them in as well.
|| Prep 10 min. || Cook 15 min. || Total 25 min.||
||Servings 6 || Cost $0.88 per serving ||
This is a favorite go to recipe when we are short on time but trying to eat healthy.