Soft Pretzel
Soft chewy pretzel.
MISC.SNACKS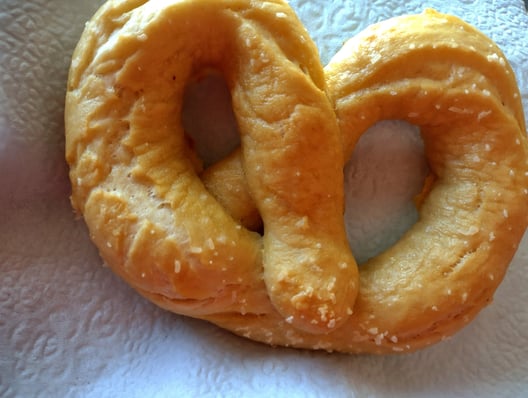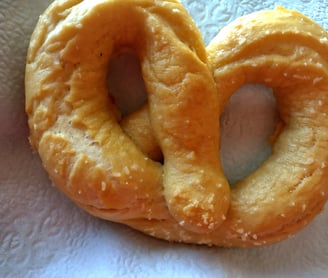 Ingredients
1 1/2 cups warm water

1 tbsp sugar

2 tsp salt

1 tbsp yeast (or 1 pack)

4 1/2 cups flour

2 tbsp oil

3 tbsp baking soda

1 large egg yolk beaten with 1 tablespoon water
Combine the water, sugar, and yeast in the bowl. Let it sit for about 5 minutes, until it starts to foam.

Add oil, salt, and flour. Mix for about 5 minutes. Put a little oil on the outside of the dough.

Cover it with plastic wrap and let it sit for about 50 minutes, until the dough has doubled in size.

Preheat the oven to 400 degrees F. Grease two cookie sheets with oil.

Bring a half of a pot of water to a boil. Add the baking soda.

Divide the dough into 12 pieces.

Roll each piece into a long rope. Make a U-shape with the rope, cross over the ends. Press onto the bottom of the U in order to form the shape of a pretzel. Place on the pan.

Put the pretzels into the boiling water, one at a time, for about 30 seconds. Remove them from the water using a large flat spatula. Return to the pan

Brush the top of each pretzel with the beaten egg yolk and water mixture and sprinkle with the pretzel salt.

Bake until dark golden brown in color, about 12 to 14 minutes.
||Prep 1 hr.||Cook 12-14 min.||Total 1hr 13 min.||
||Servings 12 || Cost $1.25 per serving ||
You're going to love these soft chewy pretzels.