Snickers Duped (without the nougat)
These caramel, peanutty clusters, covered in chocolate are divine
DESSERTCANDY
Snickers Duped
(without the nougat)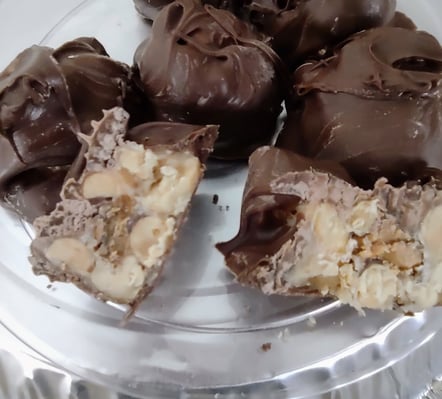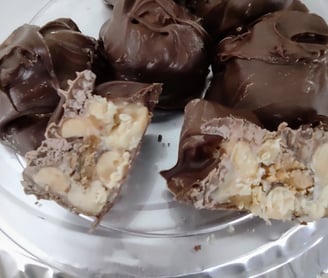 Ingredients
one batch of caramels (or one lb. wrapped caramels melted)

1 12 oz. package chocolate chips or 2 cups chopped block chocolate

2-3 cups peanuts
Mix the peanuts into the hot caramel.

Use a teaspoon cookie scoop or spoon to scoop out onto greased waxed paper.

Let them set up for 10-15 minutes.

Heat 1 1/2 cups of chocolate in the microwave for 1 minute.

Stir. and cook for another 30 seconds. Stir. The chocolate will mostly be melted at this point. If not, add another 30 seconds. Once it's melted, stir in the leftover chocolate. This will help temper the chocolate.

Using a fork or your fingers, dip the clusters into the chocolate covering it completely. If the chocolate pools on the waxed paper, it's too hot. Stir it for about 30 seconds and try again.

Give it a few hours to set up.
Notes: Use any other nut or mix of nuts. I prefer mine to be roasted and salted. It keeps them from softening and also gives more depth to the flavor. If your chocolate is too hot in step 5, it will bloom. Which means you'll get white spots from the cocoa butter separating. It's still fine.

If you don't want to dip these individually, pour your caramel mixture into a greased 9x13 pan. Wait 10-15 minutes for the caramel to cool some. Sprinkle with the chocolate. Wait a few minutes for it to melt and spread it out.
|| Prep 3 min.||Cook 8 min.||
||Dipping 15 min.|| 36 pieces||$0.18 each||
I love Snickers except for the nougat. If you feel the same way. Give these a try. Thank you, Dacy Vandenberg for coming up with the name for me.