S'more Cookie Bars
Three layers s'mores with a cookie base.
DESSERTCOOKIES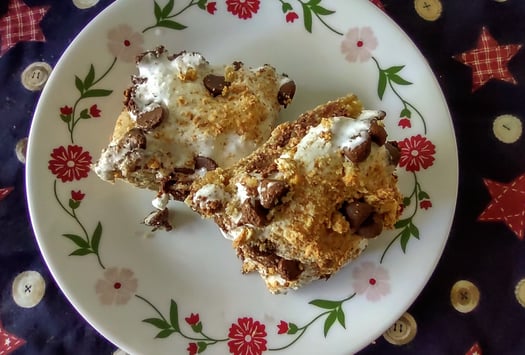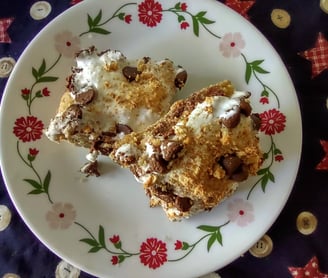 Cookie Dough
2 cups flour

½ tsp baking soda

½ tsp salt

6 tbsp butter room temp.

1/3 cup shortening

2 tsp vanilla

1 cup packed brown sugar

½ cup sugar

2 eggs

2 cups chocolate chips
Graham Cracker Crust
1 ¾ cup graham cracker crumbs

Dash of salt

¼ cup granulated sugar

Dash of cinnamon

1/2 cube melted butter
Topping
2 cups marshmallow cream

1 cup graham cracker crumbs

½ cup chocolate chip
Spray a 9x13 cake pan with cooking spray.

Cookie layer: Cream together your butter and sugars, then add eggs and vanilla.

In another bowl, mix your flour, baking soda, and salt.

Mix the two bowls together and add the chocolate chips. Press into cake pan.

Graham cracker crust: In a medium bowl, combine your ingredients and press inside your pan.

Sprinkle on top of the cookie dough and gently press it down.

Bake for 18-25 minutes, until the top is a light golden brown.

Spread the marshmallow cream on top of the hot cookie bars. Put it back in the oven with the broiler on low for about one minute to get the marshmallows toasty. Sprinkle on the graham cracker crumbs and chocolate chips.

Remove from oven. At this time, you can sprinkle some more chocolate chips on top. Let the bars cool completely before cutting. Or you can cut it early for extra gooey-ness.
|| Prep 15 min. || Cook 18-25 min. ||
|| Total 40 min. || Servings 12 min. ||
This is a yummy, fun treat that's fun to take to a party or bring some summer fun into a cold wintery day. This recipe can be found in Death of a Lonely Bachelor, my first culinary cozy.