Shepherd's Pie Simplifed
This recipe takes the fussiness out of shepherd's pie.
DINNER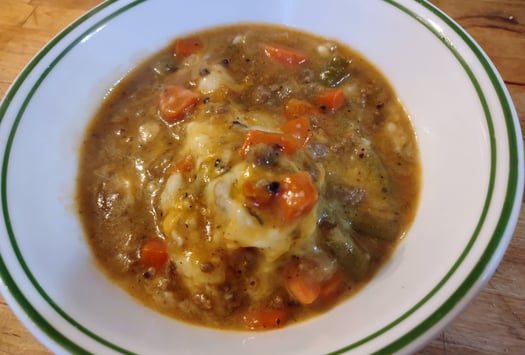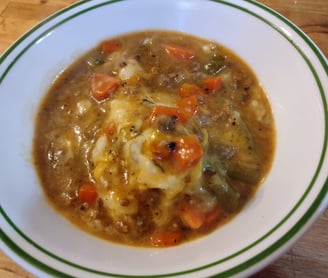 Ingredients
Meat Mixture:
1 large onion, chopped

1 lb. ground beef

1 tsp each of garlic, parsley, rosemary, and thyme

Salt and pepper to taste (I use about 1 tsp of each)

1 tablespoon Worcestershire sauce

1 tbsp garlic (or 2 cloves -minced)

1 medium carrot peeled and chopped

1/2 cup frozen peas

1/2 c frozen corn
Potatoes:
3-4 medium potatoes peeled and cut in 1/8ths

1/3 cup half & half (or milk)

1 teaspoon garlic powder

1/2 teaspoon salt and pepper
Gravy:
1 can of broth

2 tsp flour

salt and pepper to taste.
Topping:
1 cup grated cheese

1 green onion chopped
Peel the potatoes and put the in a pot of water. Bring it to a boil. Cook for about 15 minutes, until you can easily stick a fork through them.

While the potatoes cook, work on your meat mixture. Put everything in a pan (except the frozen peas and corn). Cook on medium heat until hamburger is done. Drain off any excess oil.

Preheat oven to 400. grease a 9x13 pan.

Drain the potatoes. Add the butter, garlic, and half and half. Mash them. Don't over-mix, or you'll get gluey potatoes.

Put the potatoes in the bottom of the pan. Yes, this is not traditional, but it goes together so fast.

Whisk broth and flour together and bring to a boil. Add a little salt and pepper. Gravy done.

Spoon on the meat mixture.

Top with gravy and then cheese.

Bake uncovered for 25-30 minutes. Top with green onions before serving.
Notes: You can use frozen carrots if you prefer. I just prefer fresh. Also instead of the broth and flour you can use a gravy packet. Make according to package directions.
||Prep 10 min.||Cook40 min.||Total 50min.||
||Servings 6 || Cost $1.25 per serving ||
I make this upside down and it's SO much easier.