Onion Strings
Simple onion rings cut in half.
MISC.SNACKS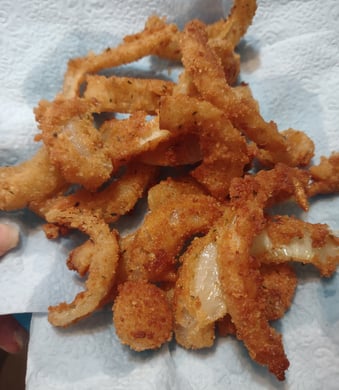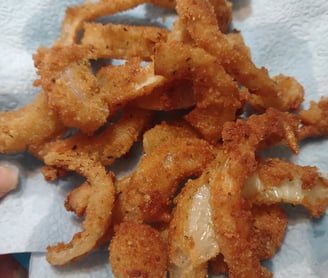 Ingredients
2 large sweet onion

Oil for frying, or as needed

1 ½ cup flour

1 tsp baking powder

1 tbsp cornstarch

1 tbsp salt

2 tsp garlic

1 ½ cup milk or water

1 large egg

¾ cup panko bread crumbs
Slice onions into 1/4-inch-thick rings. Leave in rings or cut in half.

Get three bowls. In one; mix flour, baking powder, garlic, cornstarch, and salt, In the second; mix egg and milk. In the third; put the bread crumbs.

Heat a couple of inches of oil in a deep-fryer to 365 degrees F.

Dip each onion ring into the flour mixture, turning it several times.

Move to the egg mixture, then dredge in the bread crumbs.

Deep-fry 3 to 4 onion rings at a time in the preheated oil until golden brown, 2 to 3 minutes.

Drain on paper towels while you deep-fry the remaining rings.
Sprinkle with a little more salt.
||Prep 6 min. ||Cook 6 min. ||Total 12 min.||
||Servings 6 || Cost $0.60 per serving ||
Crunchy yum, you can make at home.