Khaw Phat (Thai Fried Rice)
Thai fried rice has a different taste than Chinese fried rice. Give it a try today
DINNER
Khaw Phat
(Thai Fried Rice)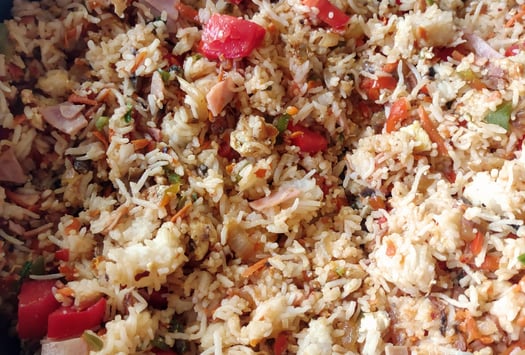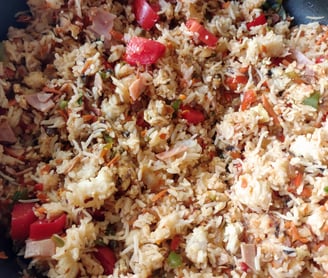 Ingredients

2 tbsp oil

2 garlic cloves, minced

¼ -½ lb meat, chopped

½ onion, chopped

3 cups day-old jasmine rice

2 tsp fish sauce

½ bell pepper, chopped

1 tbsp soy sauce

2 eggs

1 tomato, chopped

Salt and pepper to taste

1 tbsp Oyster sauce or *¼ cup ketchup

1 tbsp lime juice
Garnish
1 cucumber, sliced

1 green onion, chopped

1 lime, cut into wedges
Heat the oil in a large wok or skillet over high heat. Sauté the garlic for a few seconds before adding the chopped meat. For more flavor, add a splash of fish sauce and some salt.

Once the meat is cooked, add the onion and pepper. Sauté for a couple of minutes.

Add the fish sauce, soy sauce, oyster, lime juice, and rice. Sauté for another couple of minutes, mixing well.

Push everything to the side and scramble the eggs. When it's cooked but still soft, mix everything together and cook for another minute.

Top with your garnishes.
Notes: I know ketchup sounds crazy to use in fried rice, but it works and it's good. It's a close enough easy substitute ingredient.
|| Prep 10 min. || Cook 10 min. || Total 20 min.||
||Servings 6 || Cost $0.75 per serving ||
This is one of my favorite rice dishes. Best of all, it goes together in minutes. This recipe is in my first culinary cozy mystery, Death of a Lonely Bachelor