Indonesian Fried Bananas (Pisang Goreng)
A gluten-free fried banana. A crispy outside with a creamy middle.
Indonesian Fried Bananas (Pisang Goreng)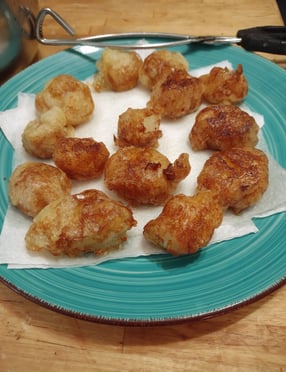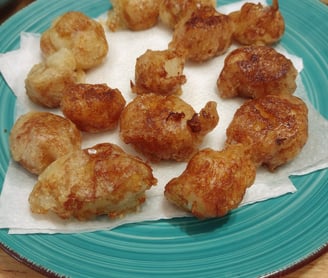 Ingredients
1 cup glutinous rice flour

2 tsp baking powder

1 tsp baking soda

1 tbsp sugar

1 tsp salt

¼ cup chopped unsweetened coconut

1/2 cup water

1 bunch ripe Thai bananas

oil for deep frying
Whisk together the 7 dry ingredients.

Mix in the water.

Heat enough oil in a pot for deep frying. Make sure there are at least 2 inches of oil, preferably 3 inches. If less than that, they'll sink to the bottom and stick.

Peel all the bananas. Slice in fourths. Put them in the batter and coat them.

Once the oil is hot, Drop the bananas into the oil. Leave some space between them so they don't stick together.

Deep-fry the bananas until golden brown and crispy, about 3-4 minutes. Turn over halfway through.

Remove bananas and drain on a paper towel-lined wire rack to remove excess oil. They are best when served immediately.
|| Prep 10 min. || Cook 10 min. ||
||Servings 8 || Cost $0.40 per serving ||