Egyptian Goulash
Simple meat pie with a flaky phyllo crust.
DINNER
Phyllo Meat Pie
(Egyptian Goulash)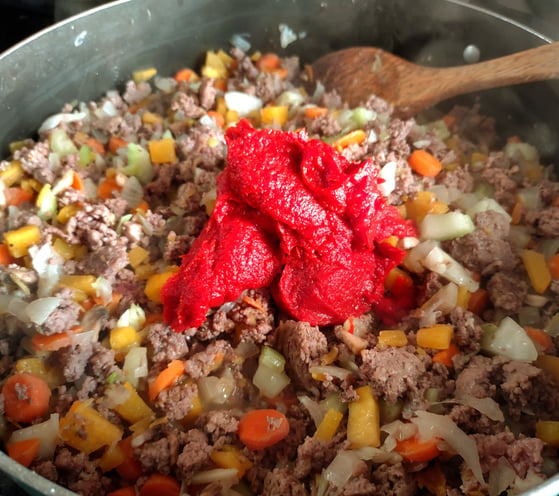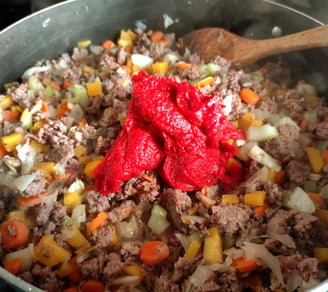 Ingredients
Beef Filling
1 lb. ground beef

1 tbsp garlic, minced

salt & pepper to taste

1/2 tsp ground black pepper

1/2 tsp ground cumin

2 cup cabbage chopped

1`cup chopped mushrooms

2 celery stalks chopped

½ cup chopped carrots

1 large onion chopped

2 cups chopped squash

1 can tomato paste

1/2 pkg phyllo pastry sheets

Butter flavored pan spray

1 cup milk 1 egg

1/4 tsp salt 1/4 tsp pepper

1. Cook hamburger with garlic, salt, pepper, cumin, cabbage, mushrooms, celery, carrots, onion, and squash. Drain grease.
2. Add the tomato paste. Stir.
3. Preheat oven to 375F. Lightly grease a 9x13 pan.
4. Open the roll of pastry sheets. Divide in half. Put half of them under a damp towel. Spray each of the other half lightly with butter flavored pan spray. Place them in the bottom of the pan with the edges going up the side of the pan.
5. Pour in your hamburger mixture and spread it out.
6. Add the rest of the phyllo sheets the way you did the bottom layers, but this time tuck the edged down the sides.
7. Mix together the milk, egg, salt, and pepper. Brush the mixture over the top. Carefully cut into 8 pieces (2x4).
8. Bake for about 35 minutes until it is golden and crispy. Let it sit for 10 minutes before serving.
Notes: This is such a good meal. It goes together pretty quickly. Add whatever veggies you have on hand.
|| 20 Prep min. || Cook/Bake 20/35 min. || Total 60 min.||
||6 Servings || Cost $1.60 per serving ||