Chocolate Zucchini Cake
One of the best things to do will all that leftover zucchini.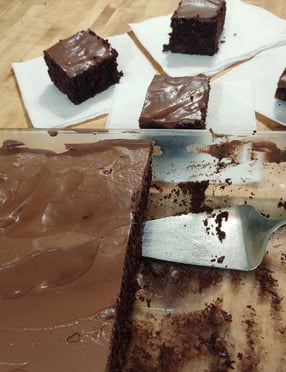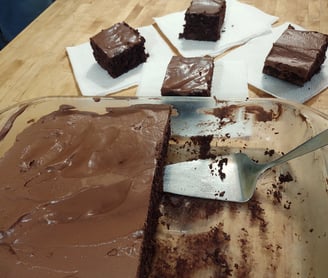 Ingredients
2 cups flour

3/4 cup unsweetened cocoa powder

1 tbsp baking soda

1 tsp baking powder

1 tsp salt

3/4 cup white sugar

3/4 cup packed brown sugar

1 cup oil

4 eggs (room temp)

1/3 cup plain Greek yogurt (room temp)

2 tsp vanilla

3 cups zucchini (grated-lightly squeeze out some of the liquid)

1 cup chocolate chips
Preheat oven to 350°F. Grease a 9x13 cake pan.

Whisk together the flour, cocoa powder, baking soda, baking powder, salt, and sugars.

In another bowl, add oil, eggs, Greek yogurt, vanilla, zucchini, and chocolate chips. Using a handheld mixer to combine.

Pour the wet mixture into the dry ingredients. Beat on medium speed until completely combined. The batter will be slightly thick.

Pour batter into cake pan. Bake for around 28-33 minutes. Allow cakes to cool completely before frosting.
Ganache Frosting
¾ cup whipping cream
1 cup chocolate chips
dash of salt
1 tsp vanilla
1. Heat cream in the microwave for one minute stir in other ingredients until chocolate is melted.
2. Put it in the fridge for one hour. With a hand mixer beat it till it doubles in volume. 2-3 minutes.
3. Spread over cooled cake.
Notes: You can subsititute half the oil for applesauce.
|| Prep 15 min.|| Cook 30 min. ||
||Total 45 min.||
||Servings 24 || Cost $.035 per serving ||
This is an easy recipe that I hope you will look forward to making every year. It will be featured in book five of the Accidental Detectives. Coming out 1/2024