Chicken Cordon Bleu Rolls
An easy twist on the traditional recipe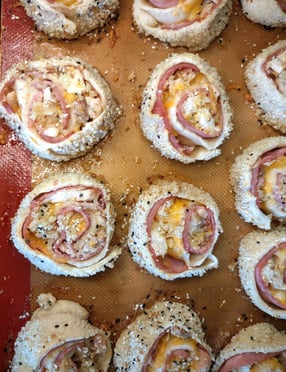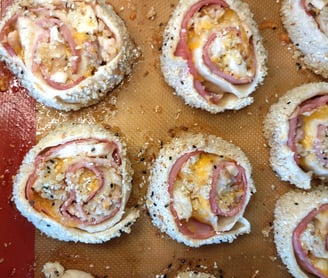 Ingredients
1 pound pizza dough

2 cups chopped rotisserie chicken

10 thin slices of ham

1 cup grated cheese

1/4 c melted butter
1 1/2 cup breadcrumbs

Preheat oven to 350.

Roll out the dough into a rectangle about 1/4" thick.

Spread out the ham to cover the dough. Add the chicken and grated cheese.

Roll it up, jelly roll style. Pinch edges together.

Brush on butter and coat with bread crumbs. Cut into 12 slices.

Place on a greased or parchment-lined cookie sheet. Bake for about 18 minutes.
Notes: Swiss cheese is traditionally used, but only 2 of the 6 of us like Swiss so I substituted Colby Jack.
|| Prep 10 min. || Cook 18 min. || Total 28 min.||
|| 6 Servings || Cost $ per serving ||