Baked Salmon
Flaky goodness brushed with flavorful herb and seasoning blend.
DINNER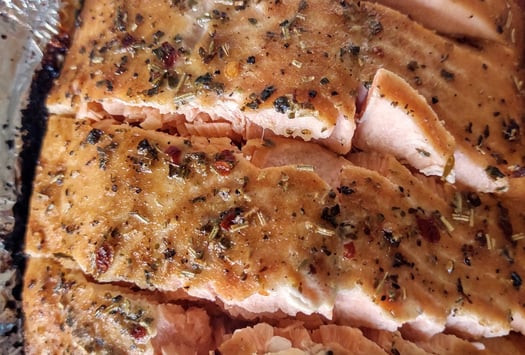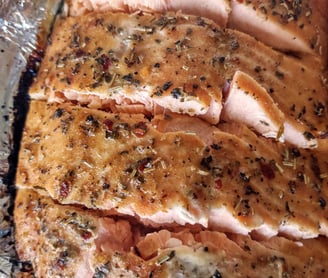 Ingredients
2 teaspoons brown sugar

1 tsp lemon zest

1 tsp orange zest

1 tsp parsley, finely chopped

1 tsp basil, finely chopped

1 tsp oregano, finely chopped

1 tsp rosemary, finely chopped

1 tsp fresh thyme, finely chopped

salt and pepper to taste

3 tablespoons olive oil

2 pounds salmon fillets
Preheat oven to 450F.

Put the fish on a parchment-lined or greased baking sheet.

Combine everything else in a bowl.

Gently rub the herb and citrus mixture into the fish, spreading evenly.

Bake for 13-15 minutes, until fish is flaky.
If you buy the 2 pound frozen salmon in 4 oz. pieces it's a lot cheaper than the fresh.
||Prep 5 min, ||Cook 15 min. ||Total 20 min.||
||Servings 8 || Cost $2.06 per serving ||
This is easy and delicious. You can use 2 teaspoons of Italian seasoning instead of all the separate herbs.